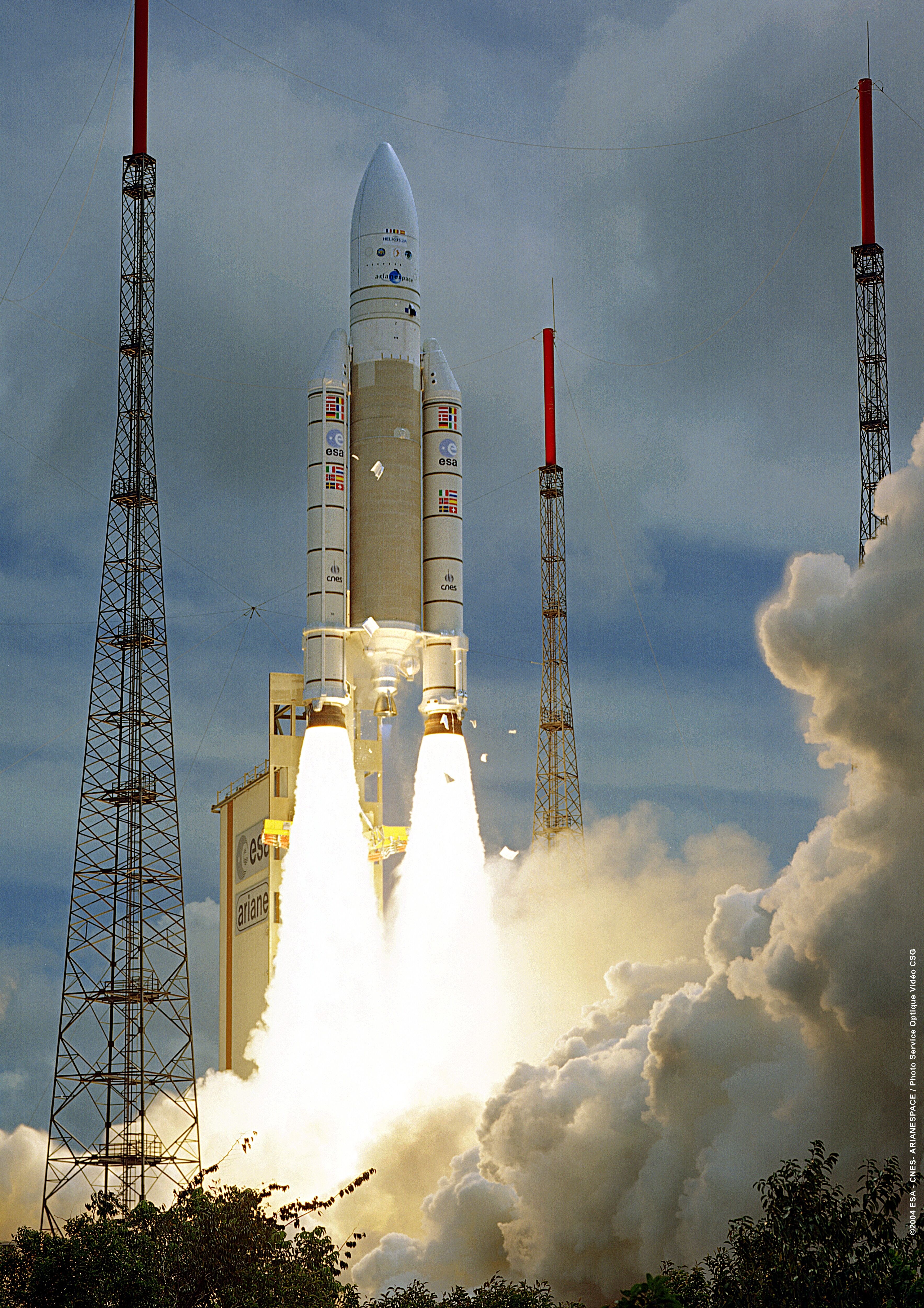 Ariane 5G+, V165 performs an unusual daylight lift off
Credits:
ESA/CNES/Arianespace - Service Optique
The third and last Ariane 5G+ performs an unusual daylight lift off from the Launch Zone (ZL-3) of the Ariane Launch Complex no.3 (ELA-3) at the Guiana Space Centre, Europe's space port, on December 18, 2004. On this flight (V165), the launcher successfully lofted the French Helios 2A military observation satellite to Sun-synchronous orbit together with six microsatellites carried piggyback on the Ariane 5 Structure for Auxiliary Payload (ASAP-5): four Essaim technology demonstrators for France's DGA, the Parasol satellite to study clouds and aerosols for CNES, the French space agency, and Nanosat, another technology demonstrator for INTA, the Spanish aerospace technology institute. A slightly improved version of the generic Ariane 5G, the Ariane 5G+ introduced a composite vehicle equipment bay and an upper stage carrying an additional 250 kg of propellant. Thanks to these modifications the Ariane 5G+ could lift up to 6.95 metric tons of payload to GTO. The Ariane 5 program was decided by ESA in 1987 to provide a successor to the initial Ariane 1 to 4 series of vehicles in order to ensure continuity of Europe's guaranteed access to space. The development program was delegated to CNES, the French space agency. Ariane 5 was introduced in 1996. The first successful flight of an Ariane 5G was conducted in October 1997 and this version became operational in 1999 with Arianespace taking over commercial operations on behalf of ESA. Its first commercial flight, in December 1999, lofted ESA's XMM-Newton X-ray observatory to a highly elliptical orbit. The Ariane 5G+ could carry a wide range of payloads to all kinds of orbits, including geostationary satellites, space probes, Sun-synchronous Earth observation platforms or Autonomous Transfer Vehicles for resupply and reboost missions to the International Space Station. Upgraded versions have been derived from the Ariane 5G through the Ariane 5 Evolution and Ariane 5 Plus programs decided by ESA in 1995 and 1999 respectively, to increase the GTO payload capacity to 10 tons, with the Ariane 5 ECA, first launched in December 2002. The Ariane 5G+ was phased out after three launches in 2004 and replaced by the Ariane 5GS, a version incorporating some of the Ariane 5ECA upgrades.